Aerodrums Air Percussion Set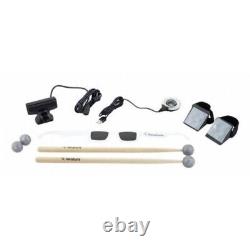 AERODRUMS - AIR PERCUSSION SET. Availability: Available in stock from supplier.
Delivery: Within 4 working days. Warranty: 2 years parts & labor. AERODRUMS - AIR PERCUSSION SET - Virtual drums. The Aerodrums uses a sample library of acoustic drum and percussion elements to produce high-quality sounds. The technology used to capture your movements gives you a sensitivity that's extremely close to that of a real drum kit.
Possibility of virtually playing drums in the air with downloadable software and a camera. The camera captures movements and the software reproduces them visually and plays back the sound. Dynamic playing, custom sounds and kit configurations possible. Pair of wands with sensors. Global Audio Store, Authorized Aerodrums Dealer.