Roland Td-02kv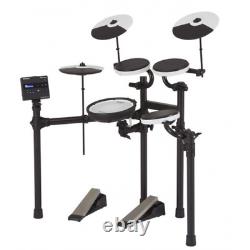 Availability: Available in supplier stock Delivery: Within 4 working days Warranty: 2 years parts & labor. ROLAND - TD-02KV - V-Drum Kit. Since 1997, V-Drums have been the leading electronic drums, delivering unparalleled tone, expressiveness, and playability for beginner drummers and touring professionals alike.
Built on decades of Roland innovation, the TD-02K and TD-02KV deliver a premium-quality musical experience, available for the first time at this price point. The TD-02 module includes 16 ready-to-play kits, inspired by those of high-end V-Drums, as well as Roland's famous Coach functions that help you progress and keep your best level. Drummers can connect headphones to play silently, and use the audio input to listen to music from a smartphone or other player and play along. The optional BOSS Bluetooth® Dual Audio MIDI Adapter enables wireless communication with mobile devices and computers, for playing music in the module and sending data to music production apps.
The TD-02K and TD-02KV offer tom and cymbal pads with sensitive striking surfaces to develop proper playing techniques. The TD-02KV kit features a Roland Mesh head snare, providing the natural bounce of an acoustic snare.
The hi-hat and bass drum trigger pedals are designed to minimize vibration and noise transmission. The TD-02K comes with a sturdy, height-adjustable three-legged rack for drummers of all ages, while the TD-02KV features a four-legged rack, providing more space for arranging pads. These two racks can be easily moved without disassembling the pads and stored in a corner of the room or a closet. The TD-02 module, with 16 ready-to-play kits inspired by those of the best V-Drums.
With the BOSS Bluetooth® Dual Audio MIDI Adapter, add wireless audio/MIDI transmission capabilities to the module. Coach functions help practice the instrument and acquire solid playing techniques.
A built-in metronome, with dedicated control panel and numerous rhythmic subdivisions and sound options. A Mesh PDX-8 head snare, providing a natural bounce and allowing Cross Stick playing. Three tom pads and three cymbal pads (hi-hat, crash, ride), with responsive playing surfaces that help apply nuances and develop correct playing techniques. Kick trigger and hi-hat control pedals with built-in noise reduction to minimize sound transfer to adjacent rooms.
A sturdy and stable four-legged rack. Fine-tune how each pad responds to your touch with multiple sensitivity settings. A headphone output for playing in silence.
An audio input for playing music streamed from a smartphone or computer. Audio/MIDI connectivity via USB to work with music production apps on a computer or mobile device. Enhance your kit with the many V-Drums accessories. Brochure "USE THE PRODUCT WITHOUT RISKS". Global Audio Store, Authorized Roland Dealer.