"EDECOA 12V to 220V Converter 3000W 6000W Inverter with LCD and 2 USB Ports"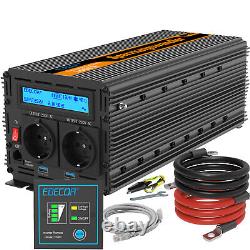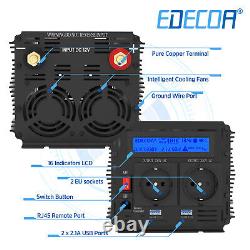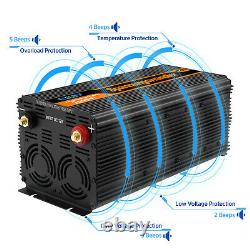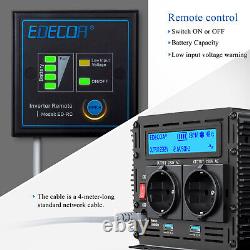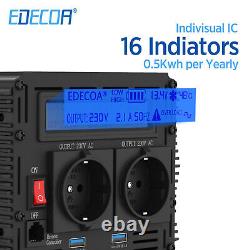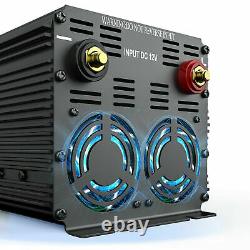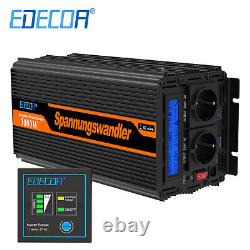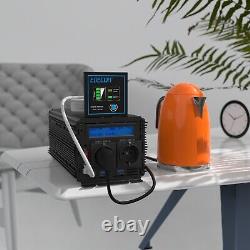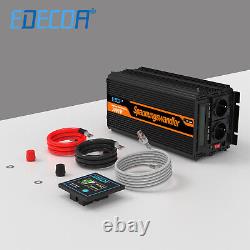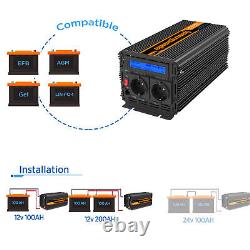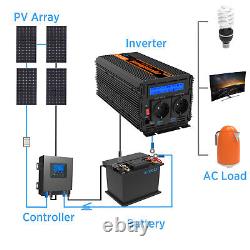 This is a modified sine wave 12V voltage converter. It can provide a continuous output power of 3000 W. Simply connect it to a 12V battery or a 12V solar system and you will get 220V AC. It comes with an LCD screen and a remote control. This inverter is an ideal backup power supply. With a 4-meter remote control. 2 EU AC 230V sockets.
2 5V 2.1A USB ports. Low consumption at a minimum. Easy to carry and takes up little space. Stable aluminum housing and profiled sheet metal. Adopts the international standard RJ45 connector, 4m remote control cable, support extension cable, monitor battery power, remotely switch the inverter.
Two 5V 2.1A USB ports that can be used to charge multiple devices at the same time are compatible with most electronic products on the market that use USB for charging. Updated version 2.0 multi-function LCD screen, LCD display that shows input and output voltage and current, output frequency, inverter temperature, and alarm conditions. Different alarms and working status are also displayed. Note: this is a modified sine wave inverter. It is not suitable for running inductive loads, such as microwaves, refrigerators, coffee makers.
How to choose a good inverter? When connecting to inductive loads (such as a coffee maker, compressor, pump, old CRT TV, refrigerator, air conditioner, relay, fluorescent lamp, vacuum cleaner), please choose an inverter with a rated value 3 to 7 times higher. Power than the load rate performance.
For example, for a 150 W refrigerator, choose a pure sine wave inverter of 1,500 W or more; For an 800 W air conditioner, please choose a pure sine wave inverter of 2500 W or higher. A modified sine is not recommended. When connecting to resistive loads (such as computer, LED TV, fan, scanner, fax machine, duplicator, audio system, juicer, heater, electric stove, slow cooker), please choose either a modified sine wave or a pure sine wave inverter whose continuous output is slightly higher than the rated power of the load.
For example, for loads close to 700W, it is better to choose an inverter with a continuous power greater than 800W. What types of batteries and compacts should I use? As long as the battery is designed for 12V applications. GEL, AGM, and flooded types work.
The inverter cannot power a high-power device with a too small battery. If you operate an 800 W heater for 2 hours, the battery capacity = rated power 800 W / inverter conversion efficiency (calculated using the lowest 85%) / battery voltage (12 V) / battery discharge coefficient 80% working time (2 hours) = 800 W / 85% / 12V / 0.82H = 196AH. On 2022-01-22 at 10:22:44 CET, the seller added the following information.