Pearl RSS505CC-31 Roadshow Fusion 20'' 5-piece Royal Blue Metallic Drum Set + Sabi pack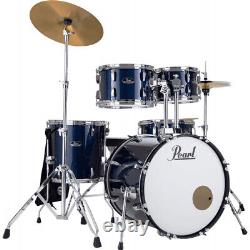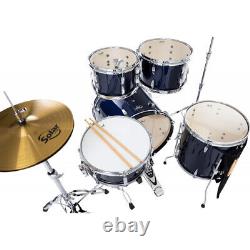 Pearl batteries have always been a safe choice for beginners. The new Roadshow series is no exception. Sturdy, well-crafted, and affordable, they are perfect for learning the drums in optimal conditions. The design is always meticulous, as evidenced by the 6-ply poplar shells with a thickness of 7 mm, featuring impeccable Rhodoïd in three colors. In this case, the "Jet black" combines rarity and elegance.
As always, Pearl showcases its reputation for durability, even with its entry-level products. Spikes, rods, shells, and hoops are all reliable, as is the snare trigger. Everything has been designed to last, even under the sticks of beginners who may not have the correct technique. The sound is very convincing. When it comes to beginners, especially children, parents generally seek durability to avoid having to deal with customer service constantly.
As for drummers, whether young or experienced, they want to start with a true sensory experience. Responsive shells, consistent diameters, a bit of depth for the bass drum, and a 14 x 5.5-inch snare drum for tuning and striking like the pros... That's precisely what the Pearl Roadshow offers, with its 20, 10, 12, and 14-inch configuration, perfect for a versatile teenager or a seasoned player looking to play in a fusion style.
The truly appealing aspect of this kit is that it has everything you need to start having a blast! The shells, the double-braced accessories (which are also considered to offer great value for money in a competitive market), the seat, the Sabian Solar cymbals (14-inch hi-hats and a 16-inch crash/ride that will provide a solid foundation), and even the bag with the drumsticks... Honestly, at this price, it's clear that today's youth are truly lucky! Snare drum: 14" x 5.5". Bass drum: 20" x 16".
Tom 1: 10" x 7". Tom 2: 12" x 8". Floor tom 1: 14" x 14". Double-braced stands: C-50 cymbal stand + H-50 hi-hat stand + S-50 snare stand. Accessories: P-50 bass drum pedal + D-50 seat + Sabian Solar cymbal set (14" hi-hats and 16" crash/ride) + pair of drumsticks + drumstick case.