Tornado Drum Set by Mapex 22'' 5-piece Black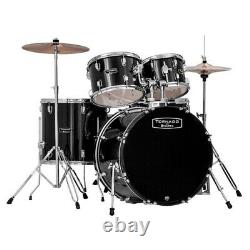 The TORNADO drum set by MAPEX is the ideal complete kit for all beginner drummers who are concerned about having an affordable kit while preserving the manufacturing quality of a big brand. The drums are made of 7.2 mm thick basswood shells. It has a ball joint tom arm. Equipped with 8 lugs for the snare drum and 6 lugs for the toms. Comes with HH 14" cymbals, 16" Crash cymbal, and a seat.
22" x 18" bass drum. 14" x 5.5" snare drum.
16" x 16" floor tom.