Battery for GE MAC C3, 400, 600 2200mAh 7.4V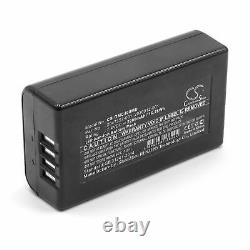 Vhbw Powerful rechargeable replacement battery for GE MAC C3, 400, 600 medical device (Li-ion; 2200mAh; 7.4V). High-quality replacement battery with long battery life and compatible with your medical device (see below for all corresponding models). The battery can be charged with the standard charger or a compatible charger. Our batteries meet all current safety standards.
What are the advantages of Li-ion technology? Lithium-ion batteries can store a large amount of energy and are among the most powerful batteries on the market.
They are characterized by a low self-discharge rate and high energy density compared to NiMH. They have a long lifespan, no memory effect, and require little maintenance, as regular discharge is not necessary to maintain their performance. These batteries are used in high-consumption mobile devices such as smartphones, laptops, cameras, power tools, as well as in RC modeling and photovoltaics. Technology: Li-ion - no memory effect.
Compatible with the following models: GE MAC C3, 400, 600. Vhbw - the clever way.
High-quality accessories and spare parts to extend the lifespan of your electrical devices. Over 3,000,000 positive customer reviews. Member of the German Federal Association of Online Commerce (BVOH).