Beaudens 166wh 52000mah Power Station Solar Battery Generator Usb Generator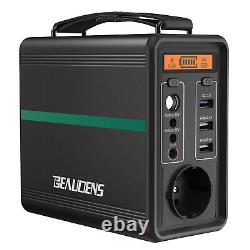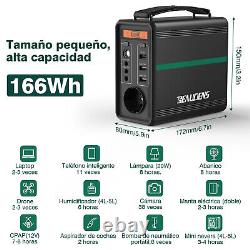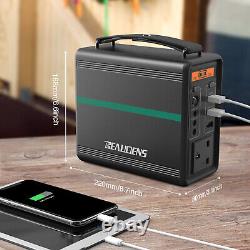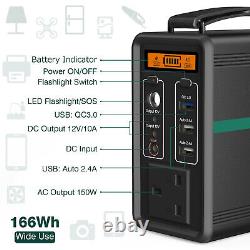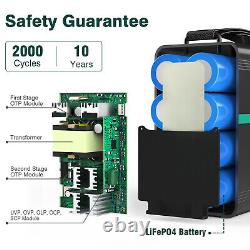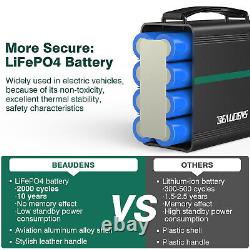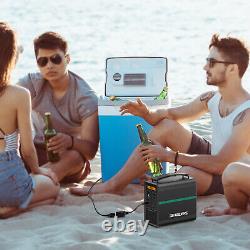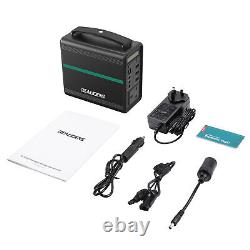 Beaudens portable solar power generator 166wh, lifepo4 battery life 10 years to 2000 cycles, backup generator with outputs ac 230v, dc 12v and usb qc 3.0 for camping trip [energy class a+++]. Safety equipment at 2000 cycles.
Powered by a lifepo4 advanced iron phosphate lithium battery, widely used in electric buses for its cleanliness and safety; 2000 charging and discharge cycles; the life of this high quality battery is up to 10 years. Portable compact power station of 166wh (52000mah/ 3.2v) with led and sos lighting, ideal for camping or emergency situations; aviation aluminum alloy hull and leather handle to avoid damage. 6 outputs ca/ cc/ usb. 1 ca output (150w), 2 cc outputs (100w max), 1 18w usb port with quick load qc 3.0 and 2 usb ports (2.4a auto). Power your smartphone, tablet, laptop, camera, lamp, drones, fans, household appliances, cpap device, etc.
Thanks to integrated mppt technology, this battery can be efficiently recharged by the solar panel charger with outputs dc5521 or mc4 (not provided), the AC adapter and the car charger (included); it takes about 4-5 hours to fully recharge the device. Certified, this, fcc, pse, rohs, etc. The electricity consumption in extremely low standby and conforms to the energy efficiency standard level vi; protection against undervoltage, overvoltage, overload, overvoltage; guarantee of 24 months; shipment from france, delivery time within 5 days. Thanks to its integrated mppt technology, this product can be loaded efficiently by the solar panel charger (not supplied) with outputs dc5521 or mc4.
Lighting modes include normal flashlight and sos. It's perfect for camping and emergency situations. Ideal for preparing at home or office in case of power outages due to disasters such as typhoons and earthquakes. The solid metal shell allows it to always function properly. Easy to carry and store thanks to its compact size (172 x 150 x 80mm).
No matter where you are, let beaudens accompany you and help you continue. Charge your smartphone about 11 times, your tablet 7 times, your laptop 2 or 3 times.
And the gas-free generator works silently. Operating time = 166wh 85% / w. For example, if you use a 48 w refrigerator, it can run for 2.9 hours. Equipped with 4 different output ports, offering flexible and convenient loading options. Charge via a cigarette lighter. Due to the protection against undervoltage, the device cannot be loaded or fully charged if your car's voltage is too low. Safe battery lifepo4 power supply the advanced lithium iron phosphate battery is widely used in electric buses due to its safety. 2000 charge/discharge cycles and battery life can be up to 10 years. Multi-protection: in case of undervoltage, overvoltage, overload, overheating and short-circuit, the device shuts down automatically to ensure safety. There is no acid or heavy metals inside the battery. Capacity: 166wh/ 52000mah input by the adapter: 14.8v/ 3a (45w) input by the car charger: 12v-22v e ntre by the solar panel: 13v at 22v/ 2a max output ac: 230v/ 50hz (nominal power 150w, peak power 200w max) 2 outputs dc: 12v/ 10a (100w max) 1 outputs usb qc 3.0: 5v-12v (18w max) 2 outputs usb-auto: 5v/ 2.4a the package includes 1 portable electrogen group b-1502 1 adapter 1 car charger 1 cable dc-mc4 1 socket light-cigare female dc 1 operating manual 1 thanks card weight: 2.2kg dimensions: 172 x 80 x 150mm. Faqs and customer recommendations: --- 1 recommendation: to protect the battery life, when using the generator for the first time, please completely unload the battery, then load it completely. -- 2 question: I want to use the ac function, how do I know if the portable generator is suitable for my equipment? Answer: First, the solar generator only supports devices of less than 150 w.
Please check whether the input or input power of the device adapter is less than 150 w (power = current voltage). -- 3 question: Is it possible to exit ac, dc, usb while the generator is being loaded? If the output power is greater than the load power, it can be displayed on the screen that the generator cannot be fully charged for a long period of time. That's normal, please charge the battery separately. If you power a high-power product while loading the product, the portable generator temperature may be higher, but this is normal and will not damage the product.
-- 4 question: how to choose solar panels? Answer: We recommend you choose a 60w-100w solar panel, the load speed is faster in the range of 18-22v, 2a (max).
-- 5 question: How to calculate the time of use? Answer: time of use = 166wh 85% / w. This item is in the category "bricolage\material workshop and DIY equipment\electric tools\generators". The seller is "lifeonwork" and is located in this country: en.
cell/battery technology: lithium-phosphate
Operating voltage: 230 v Type of generator: portable
upin: efpa7711754; efel0497251
Average battery life: 10 years
reference: b1502
certification: ce, fc, pse, rohs, meti, cec, vi, msds
fuel type: solar
Mark:warey Battery description: lithium ion (lifepo4)
ean: doesnotapply
Shipping: Excluded postal code 97000-98999 Maximum output power: 166wh
battery included: yes
uin: en235760_01tfeo