BRPOM Booster Battery 3000A 24000mAh 150PSI Car Tire Inflator 12V Start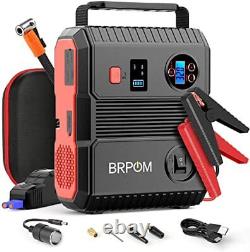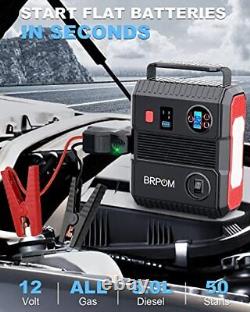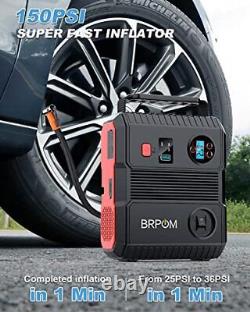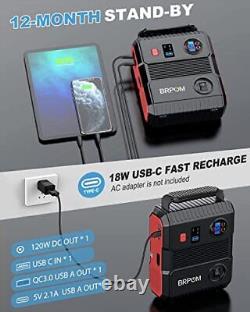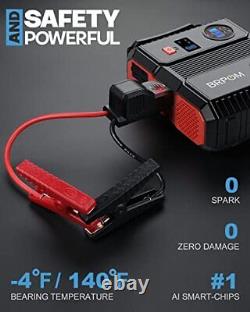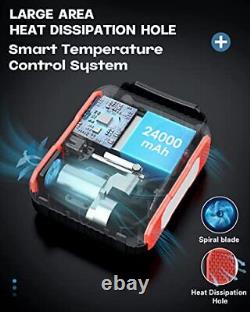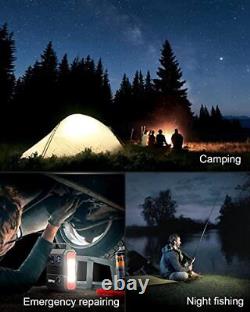 BRPOM 3000A 24000mAh Battery Booster, 150PSI Car Tire Inflator, 12V Portable Car Jump Starter, Jump Starter for Vehicles (Any Gas or 8L Diesel) with LED Lamp, LCD Screen, 12 Months in Standby. 3000A Battery Booster and 12 Months in Standby? BRPOM BM600 car battery starter has a POWERFUL peak current of 3000A. It can start most 12V vehicles for all gasoline or diesel models up to 8.0L.
A full charge can be used 50 times! Suitable for cars, trucks, motorcycles, lawnmowers, yachts, pickups, snowmobiles, etc. This tire inflator provides a maximum pressure of 150PSI with preset functions, including four unit values (PSI, BAR, KPA, KG/CM²). It is integrated with a 24000mAh battery and can inflate 4 car tires from 0 to 35PSI after a full charge or inflate from 25 to 36PSI approximately 12 times.
It can be used for cars, bicycles, motorcycles, basketballs, pool toys. DOES NOT SUPPORT heavy truck tires. BM600 can also be used as an external battery with a capacity of 24000mAh.
It offers two USB outputs (one of them is QC 3.0) and a DC output (12V-16V/10A). It can charge two devices at the same time, such as your mobile phone, computer, tablet, Kindle, etc. The DC output port can also charge small devices, such as car refrigerators, vacuum cleaners, etc. 4 IN 1 Jump Starter? BRPOM BM600 can function as a battery booster, air compressor, power bank, and a 400-Lumen LED flashlight, which is potentially an emergency backup when camping, picnicking, outdoor adventure, or investigating. In addition, the digital LCD screen can accurately display the remaining power and output voltage. Package List and 2-Year Service?
1×BRPOM jump starter, 1×smart clamps, 1×DC cigarette lighter adapter, 1×USB to type-c cable, 4×valve adapter, 1×user manual. Please read the user manual carefully before use to avoid false operation. If there are any problems with the product, please contact us in time. We offer free returns and exchanges for 2 years and five-star service 24x7. Attention: BM600 is not suitable for large inflatable objects such as surfboards, inflatable boats, etc.
The item will be shipped within 2 working days, often the same day. Normally it takes 1 to 2 working days to arrive. No delivery outside Metropolitan France. We accept returns within 30 days. If you feel that the item does not match its description, we accept returns within 30 days (return fees defined in the item description). The return must include the original package and all accessories. Payment must be made within 7 days after the auction is won. BestFrance offers a wide selection of products to buy in different categories.
We make it a point to provide you with the maximum relevant information and photos to allow you to make an informed choice. If you have any problems with your order, please contact us and we will do our best to satisfy you. We respond in less than 24 hours on weekdays and weekends.
Your satisfaction is our number one priority. Subscribe to stay informed about our latest updates. 3000A Battery Booster and 12 Months in Standby? BRPOM BM600 car battery starter has a POWERFUL peak current of 3000A.
BestFrance offers you this product at the best price?