GEL Battery for Campervan, Boat 12v 150ah UCG150-12 Ultracell Maintenance-Free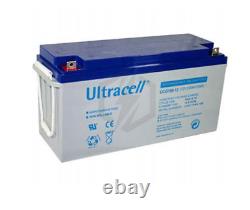 Slow discharge battery Solar energy. Slow discharge battery Camping Car. Slow discharge battery floor scrubber.
Slow discharge battery Boat / Marine. Slow discharge battery Solar energy / Wind turbine.
+ Terminal position (facing you). Cycle life: 900 cycles at 50% discharge depth according to EN 60254/1 Eurobat standard.
Features: very durable, safe and reliable. Ports: SAE and screw terminals, screws included! 350 cycles at 100% discharge. 600 cycles at 80% DOD.
900 cycles at 50% DOD. 1500 cycles at 30% DOD. 1700 cycles at 20% DOD.
Ideal for solar, camping car, boat applications... ATTENTION: PLEASE verify your contact information when placing the order, the goods are sent with a specialized carrier for heavy goods, deliveries are only made by appointment.