Pearl Midtown Jazzette 16'' Black Cherry Glitter Battery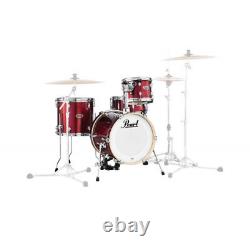 At home, on the street or on stage, the Pearl Midtown is an ultra-compact drum set that can accompany both the beginner child and the hyperactive urban drummer! It fits in small spaces and can be stored in its optional set of two cases for easy transportation. Despite its small size, the Midtown will make some noise at this price! 100% poplar shell, 6 ply/7.5mm.
1.6mm pressed steel hoops. Accessories, stands and cymbals not included.