Spare Battery 18V 5000mAh Li-Ion Compatible with Optimal Safety 3 LEDs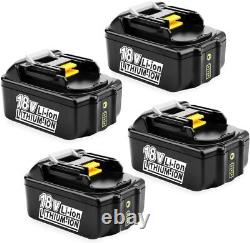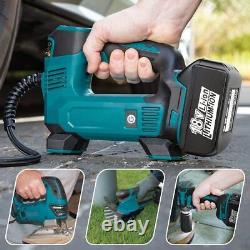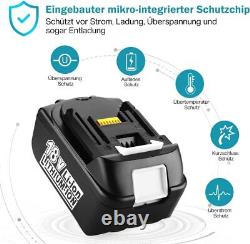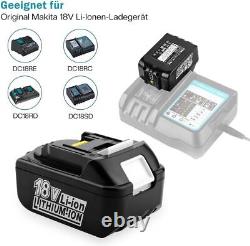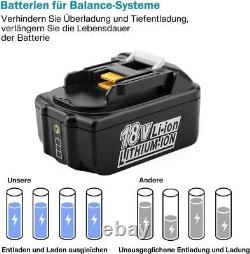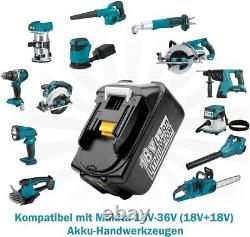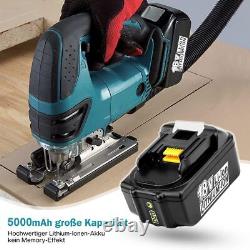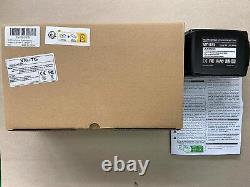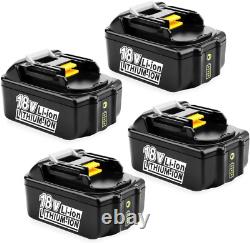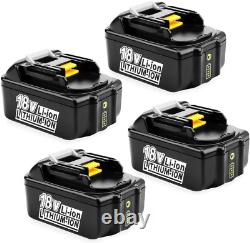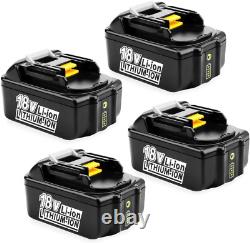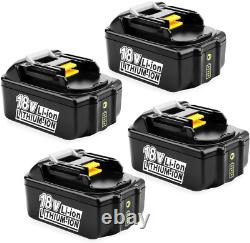 Replacement Battery 18V 5000mAh Li-Ion Compatible Optimal Safety 3 LEDs. The Battery That Changes Everything. Discover the replacement batteries for Makita 18V tools, with an unmatched capacity of 5000mAh, ensuring endurance and unbeatable performance. Say goodbye to the frustration of batteries that don't hold a charge! Our range of NEGOTIUM batteries is designed to perfectly fit a wide variety of Makita tools, guaranteeing seamless compatibility with the most common models.
Whether it's your BDF451 drill or your BSS610 circular saw, our battery will integrate smoothly, saving you unnecessary headaches. Each NEGOTIUM battery undergoes a rigorous five-step testing process before reaching your hands, ensuring unparalleled quality and safety. Additionally, thanks to constant monitoring of its status through 3 LED indicators, you avoid the inconvenience of a suddenly drained battery. Don't waste any more time with complicated battery installations. NEGOTIUM batteries are ready to use upon receipt and effortlessly install into your favorite tools, allowing you to resume your work as quickly as possible.
To get the most out of your new battery, take note of the following tips. Fully charge the batteries before their first use. Avoid humid and high-temperature environments during charging. Remove the battery from the tool if you plan on not using it for an extended period.
You deserve a quality product that won't let you down. Choose NEGOTIUM for a worry-free experience.
Trust our dedicated customer service, ready to answer all your questions 24/7. Place your order now and say goodbye to constant interruptions during your work! Q1: Is this battery really compatible with all the listed tools? A1: Yes, our battery is designed to be compatible with a wide variety of Makita tools, ensuring perfect and seamless integration. Q2: What is the lifespan of this battery?
A2: Although the exact lifespan depends on specific usage, thanks to its 5000mAh capacity and integrated technologies to prevent overcharging and overheating, you can expect a long lifespan. Q3: How do the LED indicators on the battery work?
A3: The LED indicators allow you to monitor the battery charge level, helping you anticipate when you will need to recharge it, thus avoiding unexpected work stoppages. Q4: What is the warranty duration? A4: We offer a comprehensive 12-month warranty on all our batteries, allowing you to purchase with confidence. Q5: How should I store the battery if I don't plan on using it for an extended period? A5: It is recommended to store it in a clean, dry, and cool place, away from heat and metallic objects.
Trust NEGOTIUM for unmatched quality and performance. The item will be shipped within 2 business days at the latest, often on the same day.
Normally, it takes 1 to 3 business days to arrive at your location. No delivery outside Metropolitan France. We accept returns within 30 days.
If you believe the item does not match its description, we accept returns within 30 days (return fees defined in the item listing). The return must include the original package as well as all accessories. Payment must be made within 7 days after winning the auction. For over 4 years, our passionate and experienced team has been dedicated to finding the latest trends and most popular products at competitive prices for you.
At NEGOTIUM, we work tirelessly to offer you a diverse selection of quality items and impeccable customer service. We are responsive and attentive. Our team is here to listen to you, guide you, and offer solutions tailored to your situation.
We are committed to treating each case with care and finding the best outcome for our customers.