Odyssey Extreme Racing 20 PC545 Battery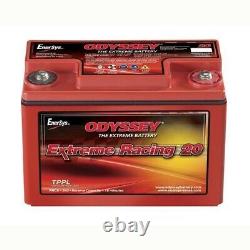 Odyssey Extreme Racing 20 Battery - PC545. 02.51.37.64.56 Monday - Friday: 9am-12:30pm / 2pm-6:30pm.
ODYSSEY Extreme Racing 20 Battery. Dimensions: 177.8 x 85.6 x 131.3. This range is characterized by a prismatic grid that allows for better retention of the active material, especially against vibrations. Reinforced separator and internal welding. Terminal specially adapted to draw the maximum current instantaneously.
Space and weight savings, more onboard energy for the same volume. Operates from -40°C to +60°C in all positions. No internal or external corrosion. Extended storage without use (up to 2 years). This battery is the most advanced on the market. Extreme 20 battery, Odyssey extreme 20, Odyssey PC545?