Victron Energy Agm Leisure Battery Discharge Slow 12v / 130ah Bat412121084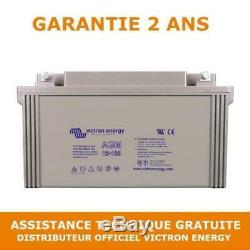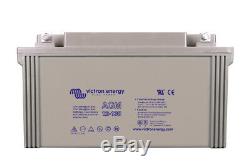 On all orders in France. Do you like what you see? Victron energy agm deep cycle battery 12v / 130Ah - bat412121084.
Ask a question about this article. We always offer the best price. The agm range has very low internal resistance the fact that they are particularly suited to applications requiring high current discharge, such as for inverters, thrusters and winches. Vrla is the abbreviation of valve regulated lead acid, which means that the battery is sealed. Gas will escape through the safety valves only in case of overload or failure of elements.
VRLA batteries are maintenance free for life. Agm is an abbreviation for absorbing glass mat. In these batteries the electrolyte is absorbed by capillarity into a mat of fiberglass placed between the plates. As we explain in our book \Through the use of lead-calcium grids and high purity materials, Victron VRLA batteries can be stored long without recharge.
The self-discharge rate is less than 2% per month at 20ºC. The self discharge doubles for every 10 ° C increase in temperature. In fresh atmosphere, batteries VRLA victron can be stored up to a year without recharging.
Victron VRLA batteries have exceptional recovery, even after deep or prolonged discharge. Note, however, that deep or prolonged shocks frequently have a negative influence on the life of all battery lead / acid batteries and victron are no exception. Discharge characteristics of the batteries.
The rated capacity of the battery victron agm and gel'deep cycle'sont data for a discharge in 20 hours, for a 0.05C discharge current. We are distributors of victron energy products. If you need advice about these products, please feel free to contact us. If ever you do not find the product you need, do not hesitate to send us a message so we can help you. Thank you to consider the fact that we do not deliver the Corsican. Delivery is from Monday to Friday between 9am and 18pm. Delivery is made within 1-2 working days if the order is placed before 15:00 throughout mainland France. We do not ship on weekends, our times correspond to the time of the carrier so we are not responsible for delays déventuels. We deliver belgium, Luxembourg and downs no extra cost countries, 48 ​​minimum delivery time. We do not ship the. Corsica, Monaco and the islands of the coast. Upon delivery, please check the status of the battery. In The event unlikely that the battery has been damaged during transportation that are irreversible, visible and evident even on the packaging please refuse the package or issue clear reservations about the state of the goods. The implementation of this procedure is necessary to proceed to an exchange. Items purchased online can be returned to our mouen store within 30 days of purchase. All returned items must be unused and in their original state. To get a refund or exchange, proof of purchase must be provided for the item you wish to return and include it in the article forwarded. By making your purchases on our shop you accept the terms and conditions stated below.
Opening hours and contact our store is the address: 350 Battery Street megastore Lodon 14790 mouen our phone lines are open Monday to Friday from 9:00 to 17:00. You can reach us at the following number: 31 February 30 79 02. For inquiries about the status of your order, please call February 31 75 07 97. You will therefore receive no response during the weekend. Large security procedure: Attention, no warranty will be granted without presentation of your purchasing invoice.
Before any request under guarantee, please fully recharge your battery in order to check that it is not simply discharged. For leisure batteries, slow discharge or deep cycle test must absolutely take place in our workshops. The return will take place, as applicable, a replacement product and reimbursement of Lacompte 25. No refund of the product will be issued. If non-compliance is not savérée, Battery Megastore France will return the fully charged battery and Lacompte 25 will be used to cover the cost of return.
As part of the legal guarantee of conformity, a request for payment of 25 will be made to cover the cost of your return non-defective battery. As part of the legal guarantee of conformity (2 years) without prejudice to any reservations with the carrier, claims about defects or non-compliance of the delivered products must be made from megastore battery France, writing in 14 days from receipt of goods.
The customer benefit of a standard exchange which, as the case may be without cost. Beyond these 14 days and until the end of the duration of the legal guarantee of conformity, any return must be the object of an agreement with Battery Megastore France. The client having a starter battery must either: - allow battery megastore France test the product in the shop.
The product will be removed by the gls carrier to the address mentioned by the customer (in metropolitan France excluding Corsica and Monaco) or may be deposited in the agency nearest gls. It must imperatively be properly packaged before the passage of the carrier. The product will be tested in the workshop and return costs are borne by Battery Megastore France. Or provide a test report made in a garage (see example below). Written reports or replacement bills will not be accepted.
The test must be performed above 12V and the device calibrated properly (at the correct unit of measurement). As part of the commercial guarantee (up to 3 years after expiry of the legal guarantee of conformity) client with a starter battery must be: - allow megastore battery France to test the product in the workshop using the same procedure as the preceding paragraph . A deposit of 25 will be required for any test application in our workshops. Providing a test report performed in a garage. The warranty will be invalid in the following cases: - abnormal wear - not follow operating instructions as - misuse or storage, negligent or incorrect installation - alterations unauthorized battery - the use of resources \electric fences (guaranteed reduced to 6 months) nb: if you think you have more than a defective battery, please sil please contact at first our technical team 31 February 30 79 02.
Right of withdrawal for consumer customers under the Article l. 121-21 of the Consumer Code, the consumer customer has a withdrawal period of 14 days as in his choice of the date of receipt of goods or the conclusion of the contract. To exercise his right of withdrawal, the consumer customer has, within the period indicated above, contact megastore battery France, written clearly defining its willingness to retract or return of exercise standard form of the right of withdrawal to the address listed in preamble.
The consumer customer must return the address to products indicated in the preamble within 14 days of the communication of its decision to withdraw, in perfect condition and in their original packaging, not used, no trace or mark, with all accessories . The cost of returning the goods remain at the consumer customer. If all the ViaMichelin requirements for product returns are not met, Battery Megastore France may deduct money to pay, if necessary, a share of the price of the order corresponding to the sale price of the missing goods or possibly degraded.
We ask you to please keep your bill carefully. If dune warranty claim, you will be asked to provide us a copy of your invoice. Responsibility battery megastore is not responsible for any harm to the life, body and health. In any event, megastore battery disclaims all liability including: normal wear and tear of its products from damage or accidents caused by negligence, non-compliant monitoring defects or dentretien or of use for any consequential to changes, incorporations or repair product of damage on products subject to abnormal constraints (mechanical, thermal). Product availability product availability is not necessarily related to the amount displayed on the site. We do our best to ensure that all our products are in stock.
In this case, we will offer you the possibility of a refund or an alternative product of equal or greater range, at the same price. Delivery address once the order is shipped, we can not guarantee the possibility of a change dadresse delivery. It is very important to check the delivery address, including zip code, and telephone number. Apparatus combination errors in your contact can cause delays.
We do not ship Corsica, Monaco and the islands of the coast. Waste we can point to any customer who requests it a repository or a specialized waste treatment plant near the local battery megastore, or any battery dealer marketing these products under their trade name or any person entitled to recover the waste.
In any case, the customer can deposit them in any place suitable for the recovery of such wastes. It is forbidden to dispose of batteries, battery or batteries in your household refuse or reject them in the wild. Battery Megastore has been created for you to buy a simplified manner batteries at competitive prices online or by phone.
We import batteries directly from the manufacturer, which allows us to offer you good prices, but also access to live on quality products. Currently expanding, we offer a wide range of battery suitable for all types of vehicles: car, motorcycle, motorhome, caravan, boat, Heavyweight all our prices include VAT. Battery Megastore undertakes to offer a delivery service to home fast and efficient to all our customers: industrial organizations, especially. Buy a car battery with us could not be easier, we aim to make the process as simple and direct as possible. Command your battery fast delivery the next day, included in the price. Battery Megastore has experienced strong growth since its inception in 2000. All this, thanks to our valued customers who have decided to change the mode of buying batteries and benefit from a more competitive offer. If you are still not convinced to use megastore battery, see the following information: - every day we receive many positive comments from our customers - our company has been featured in various magazines and articles - we offer various batteries, depending on the type of technology. We professionally pack to prevent damage in transit - we have a technical team to answer your questions - all our batteries are of the highest quality and are guaranteed your feedback is extremely important to us. If you have any suggestions on how we can improve all aspects of our service, please email us directly. We value your custom and hope you will decide to use battery megastore for your purchases. Try us, you will not be disappointed. Sign up for our newsletter and receive our offers and tips. Battery Megastore has been created for you to buy simplified competitive APRIX batteries online or by phone. We import batteries direct from the manufacturer CeQui allows us to offer attractive prices, but also access to live depremières products qualities. 99% of our customers recommend us to a friend. The item \\ electricity / battery / energy. \The seller is \This item can be shipped to the following countries: France, Belgium.
cca: 1000 <\/ li>
brand: victron energy <\/ li>
manufacturer part number: bat412121084 <\/ li>
Voltage: 12 <\/ li>
Type: agm deep cycle <\/ li>
battery type: agm <\/ li>
MPN: bat412121084 <\/ li> <\/ Ul>