Alesis Compactkit 7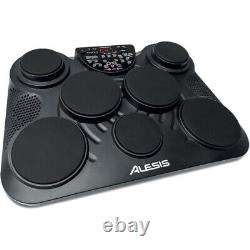 Availability: Item in stock / Limited quantity. Warranty: 2 years parts & labor. ALESIS - COMPACTKIT 7 - Compact 7-pad drum kit.
The CompactKit-7 tabletop drum kit features 7 velocity-sensitive rubber pads that provide realistic sound and feel. It also includes 2 pedals to simulate the kick drum and hi-hat, giving you the impression of playing on a real drum kit. Want to improve your skills? The built-in metronome and recorder allow you to practice your exercises and analyze your performances. Use the USB-MIDI output to connect your CompactKit-7 to any virtual drum editor.
Play your CompactKit-7 wherever and whenever you want, with drumsticks or just your hands, whether plugged in or using batteries. 2 pedals for kick drum and hi-hat. 45 built-in drum kits and 5 customizable kit slots. 265 drum sounds and 100 accompaniment tracks.
Play with hands or drumsticks, your choice. USB-MIDI output for plugin use.
Includes AC adapter and drumsticks. Works with AC power or 6 C batteries (not included).
ALESIS - COMPACTKIT 7 - 7-Pad Portable Tabletop Drum Kit. Full-featured drumming fun for drummers just starting out or non-drummers who just want to have fun! The Alesis CompactKit 7 is a tabletop electronic drum kit with seven velocity-sensitive drum pads that deliver realistic drum sound with the feel and response of real drums. It also comes with two pedals for hi-hat and kick drum, so you'll really feel as if you're sitting down at an actual set. There are 100's of built-in percussion voices, preset drum kits and play-along songs, so you can get started right away with your own customized sound. The 3-digit LED display shows the status of all your operational settings and separate LEDs light up in response to which pad is being struck, giving you instant visual feedback. The self-recording function records you as you play and retains the recording even after you turn the unit off. Want to expand your sound potential? Use the USB-MIDI output to connect CompactKit7 to your favorite DAW and plug-ins. Sticks are included and so is an AC power supply. But you can take CompactKit 7 with you and play anywhere, by using 6 C batteries (not included). 7 velocity-sensitive drum pads provide realistic feel. Includes 2 pedals for hi-hat and kick drum. 45 preset drum kits, or add 5 user drum kits. 265 percussion voices and 100 play-along songs. Self-recording feature and built-in metronome. Hand Percussion feature enables use of hands instead of sticks. USB-MIDI output for use with DAWs and plug-ins. Take it anywhere and play with 6 C batteries (not included).
Global Audio Store, Authorized Alesis Dealer.