Alesis Debut Kit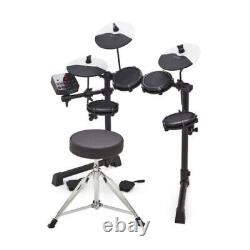 Availability: In stock from supplier. Delivery: Within 2 working days. Warranty: 2 years parts & labor. DEBUT KIT - Electronic drum kit.
A complete kit to start playing drums! Playing drums has never been so accessible! Introducing the Alesis Debut Kit, a complete electronic drum kit in a single box for children aged 3 to 8. The Debut Kit comes with absolutely everything you need to start playing the drums.
Firstly, there are the 4 adjustable 6-inch mesh drums which are great to play. Each of the 3 cymbals supplied has a large playing surface of 10 inches. The bass drum and hi-hat are controlled by sensitive pedals that can be rolled up and stored when not in use.
The adjustable drum seat and headset provide comfort for drummers of all ages. Did we mention that drum sticks are also included? The Debut Kit is the perfect kit to become the aspiring drummer that you are.
A kit that sounds really good! At the heart of the Debut Kit is the sound module. The module includes the following features; 10 classic and modern sounding drum kits, custom designed by Alesis. These kits contain 120 sounds and use Intelligent Dynamic ArticulationT technology to provide incredibly realistic sounds.
The module can be connected to an external sound system such as the Alesis Strike Amp 8 (sold separately) using the ¼-inch stereo outputs, or plugged into headphones for truly private practice. The module also includes a built-in drum trainer, featuring 30 playing tracks, as well as specially designed rhythm exercises to help develop and improve skills. Additionally, there is a ⅛-inch aux input for listening to favorite songs on a phone or tablet.
Hone your skills with Melodics. Alesis has partnered with Melodics to provide 60 free lessons for PC or tablet. MelodicsT is an app that helps improve your timing and expand your rhythmic vocabulary. Accessories included: Seat, Bass drum pedal, Headphones, Hi-hat pedal, Sticks. Number of drum kits: 10.
4 x 6-inch mesh skin pads. 3 x 10-inch cymbal pads.
Easy to store metal rack. DM-Lite / Turbo Mesh module. Global Audio Store, Authorized Alesis Dealer.