EFNOTE EFD7 Battery for Efnote 7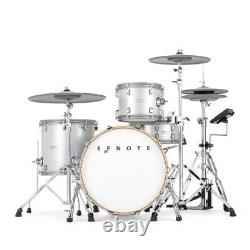 EFNOTE - EFD7 - Efnote 7 drum. Availability: Available in supplier stock. Delivery: Within 4 working days. Warranty: 2 years parts & labor. The Ef-Note 7 electronic drum kit is a professional level kit designed to reproduce the same characteristics and sound as an acoustic drum kit.
With birch wood shells and full-size drumheads, this kit offers the same feel of an acoustic kit, but with the benefits of an electric drum kit. The Ef Note 7 comes with a 14 x 5.5 inch snare drum, a 20 x 15 inch kick, an 11 x 8 inch tom, and a 15 x 15 inch floor tom. The set also includes a full set of rubber-based silicone cymbals, with 14'' hi-hat, 16'' crash, and 20'' ride cymbals. In terms of hardware, the Ef Note 7 has a snare stand, a cymbal stand, and a tom stand. The cymbals feature a 360-degree flat sensor and multi-sensor technology to ensure a response from every angle of the cymbal itself. The Charleston pads have a 360-degree multi-optical sensor for incredibly realistic response and sound. The ultra-compact module offers a range of stereo acoustic drum and cymbal sounds dedicated to the Ef Note 7, as well as Tru-Aco technology that allows for very realistic drum and cymbal behaviors. The kit not only offers exceptional sound, but also looks spectacular with its sparkling white finish, giving it a stage-worthy aesthetic. Ideal for professional drummers looking for a quality kit for their gigs, the Ef-Note 7 Electronic Drum Kit is as close to acoustic as it gets.
Integrated USB audio interface (8 outputs / 2 inputs). Bluetooth for audio and MIDI input. 1 bass drum pad 20"x15". 1 snare pad 14"x5.5" with three playing zones.
1 tom pad 11"x08" with two playing zones. 1 floor tom pad 15"x15" with two playing zones. 1 Hi-Hat 14 cymbal pad with two playing zones and controller. 1 Crash cymbal pad 16 with three playing zones and mute function. 1 Ride cymbal pad 20 with three playing zones and mute function.
Global Audio Store, Authorized Efnote Dealer.