Fast Auto Moto Car Battery Charger Boost 430 12V and 24V Batteries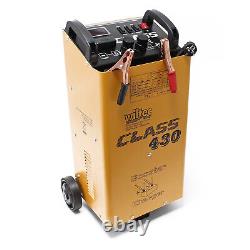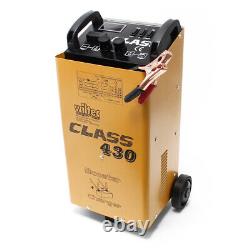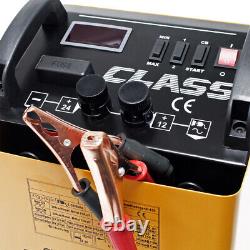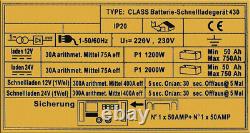 Oil Bath Clutches and Spare Parts. Motorcycle Alarm System & Siren. Remote Control & Stop Button. Mini Indoor and Outdoor Ponds. Fish Nets & Protection Nets.
Pond Protector Against Herons and Cats. Welding Wire & Welding Helmet.
Quick Motorcycle Car Auto Battery Charger - Boost 430 - 12V and 24V Batteries. 12V and 24V Battery Charger.
Charger: truck, bus, car, motorcycle. Further inquiries: please indicate item number WilTec 30560. The Booster 430 battery charger is a professional starter battery charger for charging and quick charging of lead-acid and lead-felt batteries with 12V and 24V. The battery charger has all the technical requirements for fast, efficient and gentle charging. The quick-charging battery charger is suitable, thanks to the 24V switching possibility, also for charging trucks and agricultural vehicles.
But car batteries can also be charged quickly and gently. The starter device is mobile with large wheels, making it ideal for rocky terrain. This charger is equipped with robust, high-quality clamps that stay securely attached and do not slip off the poles. Initial / start-up aid function.
Selectable charging voltage 12 / 24 V. Charging cable with insulated clamps & handles. Button for quick or normal charging.
Charging current / current consumption. Fast: arithmetic: 12/24Volt-300A / effective: 12/24Volt-400A, NORMAL: arithmetic: 12/24Volt-30A / effective: 12/24Volt-75A. Low-priced products & shipping costs see item description. Fast shipping daily, by post or DPD (Exapaq). This is a commercial offer.
You can find information on the right of withdrawal in our "General Terms and Conditions of Sale".